Taking good care of your company fleet is about more than preserving the value of your vehicle and prolonging their service life, it's about making a great impression on your client. A dirty, beat up car sends the wrong message. We all know we need to dress properly for work, and a clean, well-maintained car should be part of your professional work ensemble.
What your company car says about your work ethics
The state of your commercial fleet says a lot about you as a business owner. How you present yourself, from your attire to your office, to the vehicle you drive, is going to play a part in how clients see you. And little details can have a big impact, like driving in a dirty car. Even if you work is dirty – like construction – your car should still be well maintained. Taking care of your appearance, including the appearance of your vehicle will tell customers that you pay attention to detail and that you take pride in your work.
Making a great impression on clients
First impressions are everything. That means you show up showered, clean, and presentable. Your car is no different. Showing up in a recently washed and detailed vehicle shows your client that you are organized, neat, and serious about doing business. A clean vehicle also shows that you manage your time well, that you have respect for your possessions, and that you are detail oriented. Seeing the immaculate state of your car will make clients think that you will put as much effort into doing a good job for them, as well. Plus, showing up in a clean car is a sign of respect for your client.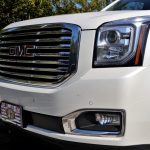 Fleet detailing in Nashville
Running a successful company means that your fleet is always out on a job. Taking one vehicle out of commission to have it detailed can be costly and time consuming for a business. But not to worry. Renew Auto Detail in Nashville will come to you to wash and detail your fleet on-site. We bring professionalism, skill, and all of our own equipment. All you have to do is set up an appointment, and we'll come to you. It's the easiest, simplest, and the most efficient way to keep your fleet immaculate for great client impressions.