A Simple Guide to Dry Your Car After Washing
For those car owners who wash their car at home, here is how you easily dry your vehicle. All you need is 5 to 8 white cloth lint-free diapers or some microfiber towels.
Starting with a diaper in each hand, using your leading hand to take off most of the water. Then continue with your other hand, and dry the area more thoroughly.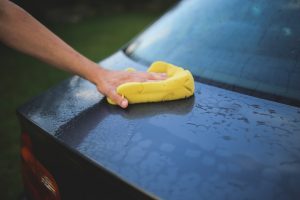 When the leading hand diaper gets too wet, put it down, transfer the right-hand diaper to the left hand (or vice-versa), pick up a new diaper in your right hand and keep going. When they get wet, discard and repeat the process. Cycle the diapers through from right to left hand until you finish drying the whole car. Turn diapers over as necessary if they pick up dirt that did not get washed off to avoid rubbing it into the paint. Use a clean diaper to dry off the glass so it does not leave watermarks. Finally, after you are done, launder the diapers for next time.
Additional Car Drying Tips
Never skip drying! This process is necessary to prevent water spots.
Dry the windows and mirrors first.
Don't use a chamois, as it will just collect dirt (they turn black for a reason) and rub it back into the paint.
Avoid using Terry cloth towels because the fibers can become matted and hard after repeated uses. This increases the chances of swirls.
You can use a California Jelly Blade. This is a product made of soft, medical-grade silicone that will not scratch your paint or glass.

If you have any doubt about how to dry your car, call the expert car detailers from Renew Mobile Detailing at 615-430-2070. Or, you can avoid the hassles of washing and dry your car and bring it to our shop. We will leave your car spotless.