Smokers, dogs, and getting caught in the rain are the reason that your car stinks. Don't let bad smells ruin the fun of your favorite car, truck, or mini-van. Get a premium detailing by Renew, and we'll get rid of any bad smells in your car.
Getting bad smells out of your car
There's nothing worse than getting into a car that smells. Even if the rest of the car looks pristine, a funky stench is enough to make your friends and family find other means of transportation. Of course, sometimes your friends and family are the reason for the bad smells. Smokers can leave behind remnants of smoke from their clothing, and we know you're not going to stop driving your dog to the park, the store, or anywhere else.
Getting rid of the smell of smoke
If you're a smoker and you smoke in your car, you may not be aware of how stinky your car has become. When we are the cause of the smell, we sometimes don't realize how bad it is before people stop asking for a ride. Of course, if you like driving around by yourself, then by all means, smoke away. But if you want to make your car pleasant for non-smoking friends and family, get a premium interior detailing and get rid of that tobacco smoke. Smoke will linger on every surface, so you need a thorough detailing to really get rid of cigarette smoke in your car. Dousing your car with air-freshener is not going to do the trick. That will just make your car smell like smoke AND air freshener.
Getting rid of the smell of dog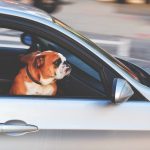 Dogs love to drive in cars, and we love to drive around with our dogs. We all know that after a trip to the park, the dog can leave behind that musky dog scent. It's not that they're sweating all over your car, it's that they're shedding all over your car. Pet fur smells, so you need a thorough interior detailing to get rid of all the pet fur and dander, and with it, the smell of dog.
Get rid of the smell of mildew
If you've ever left a window open and gotten caught in the rain, or your dog jumps in the car after playing in a few puddles, then you may notice a mildewy scent in your car. Mildew is an unpleasant smell, but if it's not treated it can lead to mold. Mold can have serious health consequences. If you smell that musty mildew smell in your car, call the Renew detailing crew and we'll come and get rid of the smell.
Renew mobile detailing in Nashville
To get rid of unwanted smells in your car, whether it's from smoke, dogs, or mildew, we recommend an ozone treatment. An ozone treatment is the most effective tool against bad car smells. With a complete interior detailing, we'll get rid of the smells where they originated. We go deep when we detail your car. If you want to bring back that new car smell, call Renew Mobile Detailing in Nashville.