There's nothing more luxurious than all natural leather interior in your luxury cars. However, there tends to be a lot of misconceptions about how to care for your leather interior. It's true that leather has stood the test of time. However, it has not survived on its own; it needs your help. Here's how to properly care for your leather car upholstery and ensure that it keeps looking great.
Protecting leather car upholstery
Leather is tough, and it may take a long time before it starts to show any signs of wear and tear. However, once your leather starts to crack and fade, it can be hard to bring it back to life. That's why you need to take care of your leather car upholstery from the start so that your interior will keep looking as pretty as the exterior of your car. The best defense is a good offense, so prevention is the key to keeping your leather in perfect condition.
Washing leather car upholstery with water
There's a misconception that water is bad for your leather upholstery. Sure, you don't want to soak it in water and then go about your day. No material, whether it's leather or fabric or vinyl will appreciate the prolonged exposure to water. Organic materials will start to become discolored and moldy, and vinyl materials will start to warp. However, using a soft damp cloth to wipe down your leather car upholstery is the best way to prevent it from cracking, tearing, and fading.
Drying leather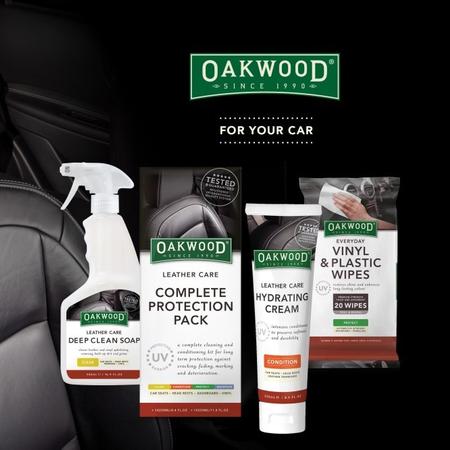 The reason people have the misconception that water is bad for leather isn't due to the water itself, but due to the minerals and elements that are in the water. If you've used a more generous amount of water to wipe off stains or dirt from the leather, make sure to use a dry cloth to completely dry your seats. If you leave your seats to air-dry, you may see an unsightly residue left on your seats from the additives in the water.
Conditioning your leather car upholstery
By regularly wiping down your leather car upholstery you will prevent a lot of damage and signs of aging. However, you will want to treat and condition your leather interior regularly. Using quality products made from natural ingredients specifically formulated to protect leather will keep your interior looking great for many years.
UV protection
Protecting your leather from the sun will go a long way to maintain your leather car upholstery. At Renew, we use products that have UV protection, which serves as an extra method of prolonging the longevity of your leather interior.
Renew Mobile Detailing will come to you at a time and place that is most convenient. Using top-of-the-line equipment and products, we will renew your vehicle inside and out.